Winter Park is a beautiful resort town located in Grand County, Colorado. Most people think of Winter Park for the skiing and distinctly as a winter destination. However, visiting Winter Park in the summer is incredibly beautiful with stunning views and incredible recreational activity.
Summer activities in Winter Park include hiking, biking, art and music festivals, as well as the many activities at the base of the ski resort. One of my favorite summer recreational activities in the Winter Park area is to fish on the beautiful rivers and lakes.
There are an abundance of fishing options in Grand County. With 1,000 miles of streams and rivers, almost 1,000 acres of high mountain lakes, 11,000 acres of reservoirs, and many stocked ponds, the fishing opportunities are great for everyone.
Closest to Winter Park is the Fraser River. It is the main tributary of the Colorado River. It runs about 32 miles from Berthoud Pass to its confluence with the Colorado River (west of Granby). There are some great spots along the river that are accessible where trout can be caught as big as 15 inches.
Just a short drive down the road (highway 40 to be exact) from Winter Park is Granby. Granby becomes the gateway to drive towards Rocky Mountain National Park. En route you will find Lake Granby, Shadow Mountain Lake and Grand Lake. All three lakes offer incredible water recreation from renting pontoon and fishing boats, kayaks and stand up paddle boards. Fishing on or off shore provides people all ages the opportunity to test their cast. The views of the Continental Divide and Rocky Mountain National Park provide a picturesque backdrop.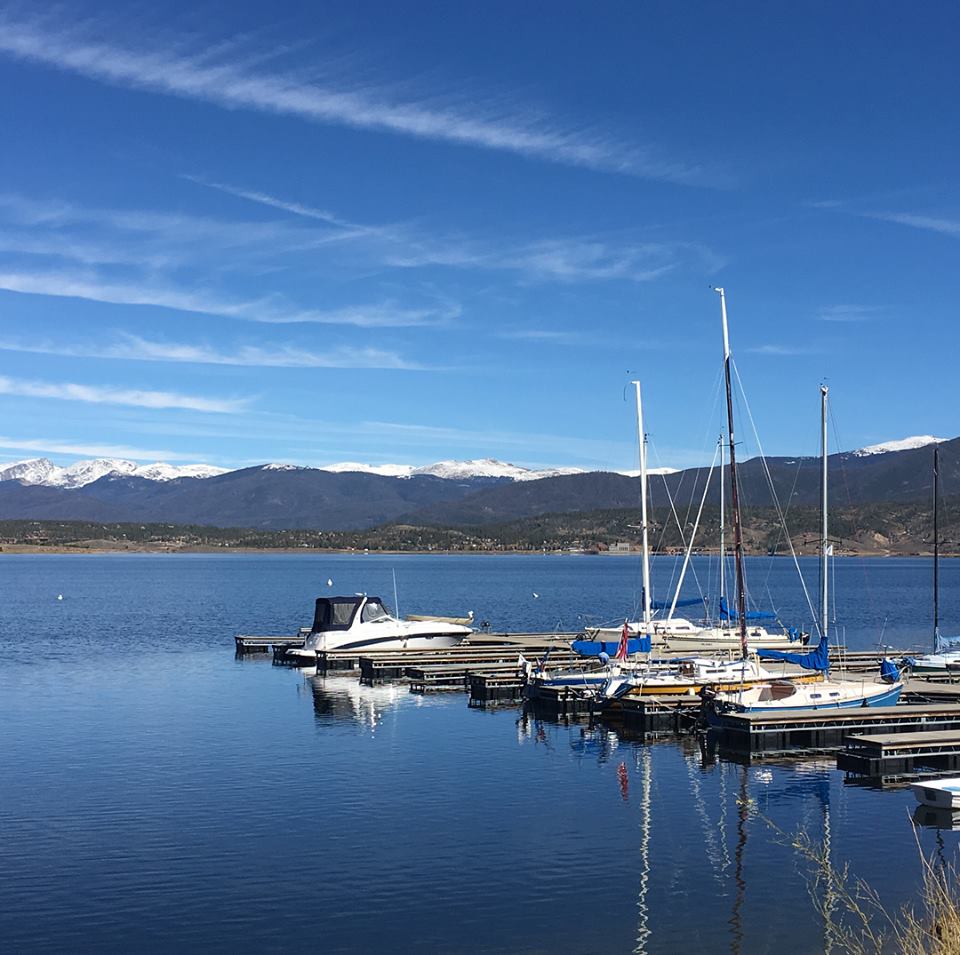 Photo: Lake Granby with Rocky Mountain views

Fishing reports for the last week of May:

Grand Lake
-Rainbow trout are biting small spoons, worms and small crank bait around the inlet areas. Brown trout are eating crank baits and jigs cast to shore. Lake trout are eating jigs tipped with sucker meat and crank baits. The lake temperature is 46 degrees.

Lake Granby
-Rainbow trout are being caught near flowing water. Small spoons, worms and powerbait are all working well. Brown trout are being caught along the shorelines with jigs and crank bait. Lake trout are biting on jibs, spoons, bait and crank baits.
Williams Fork Fishing Report
-The surface temperature is 46 degrees and water capacity is at 76%. Water clarity is excellent. The ramp hours are from 6 a.m. to 8 p.m.