I just enjoyed a few days of what feels like winter in Winter Park. They have received over a foot of snow in the past 24 hours with more snow on the way this week. With opening day set for November 13th, Winter Park Resort seems more than ready to open!
The past week has given us a good taste of winter. With the two big storms that brought double digits to the ski resort, the weather forecast ahead does not seem to be letting up or warming up. This is great news for Winter Park and Mary Jane as the mountain will take all the snow Mother Nature will provide to gear up for an incredible opening day.
With the colder temperatures in store over the next 10 days, this allows the resort to also blow snow, making for a solid base with the natural snow. I would imagine we can expect to see a healthy amount of terrain open for the first day of the season on Wednesday, November 13th.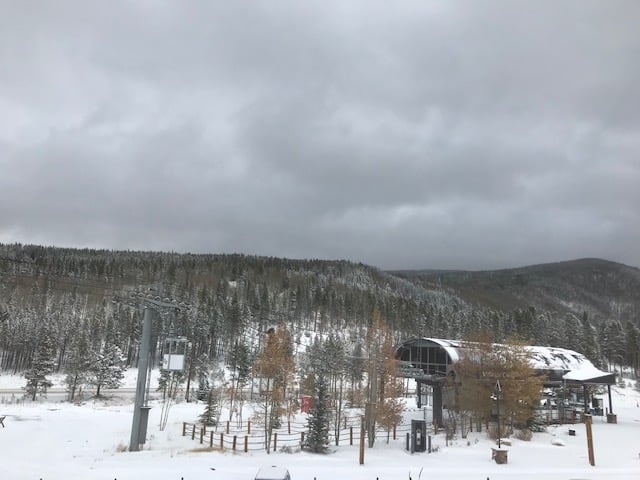 Photo: Picture of the gondola on October 21st
Now is the time to buy your Winter Park Resort Season Pass as prices go up tomorrow (October 24th). Explore the Seven Territories of Winter Park Resort all season long starting winter 2019/20 with unlimited access to over 3,000 acres of varied terrain and no restrictions. Prices below:

-Adult (23 years and older): $499
-Young Adult (Ages 13-22): $429
-Child (Ages 5-12): $279
-4 and Under: $29
Also with your season pass is the option to buy 8 Friends and Family tickets for 25% off of the window rate. This is not applicable for the Child or the 4 and under pass. Take advantage of another amazing deal by adding on the Cirque Sled to explore the steeps, chutes and cliffs of the Cirque. For an additional $20 add this to your Winter Park Season Pass, Ikon Pass or Ikon Base Pass and skip hiking with unlimited sled rides for only $20!
The start of ski season is just around the corner. Don't wait and watch it snow wishing you had secured a good deal on the pass. Click here for more information.
Photo: View of Winter Park from this week's recent snow.