There is very exciting news as we head into the holiday week ahead. The mountain adjacent to Winter Park is Mary Jane and they just opened for the season! This provides increased skiing and riding terrane for the overall Winter Park experience.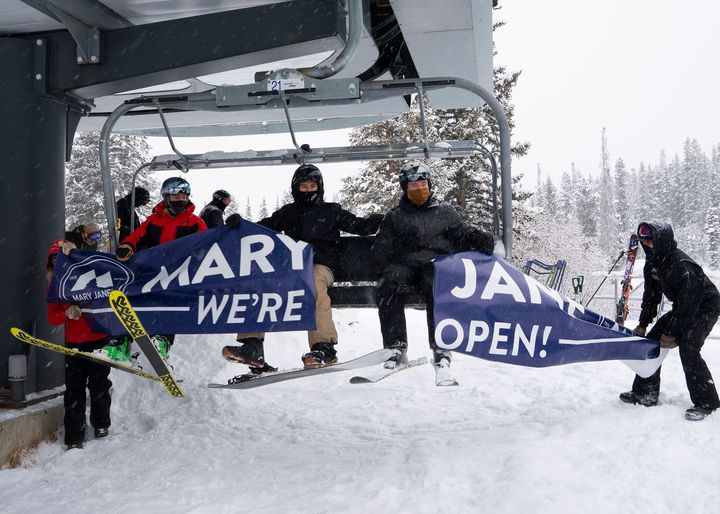 Photo Credit: Mary Jane/Winter Park Resort
If you have not heard of Mary Jane you are in for a treat. It is the mountain directly next to Winter Park Resort that is easily accessed from a chairlift via Winter Park to make it accessible to check out another mountain and territory. There is also a parking lot below Mary Jane to have direct lift access for just Mary Jane, however they share the same pass, which makes in convenient to explore both mountains.
Mary Jane is known for its steeps, bumps and some great tree runs. I might add they are tight tree runs, so be sure to have a buddy and know where each other is as you descend down the slopes. This appeals to the expert skiers and riders, however there is an easier green on skiers right and towards Winter Park on skiers left if the expert terrane is not yet calling. There are also a few blue runs to appeal to all abilities.
After warming up the legs at Winter Park perhaps head over to Mary Jane and experience the legendary steeps and bumps. Be sure to know the terrane with a trail map handy and be ready for exhilarating skiing and riding. The views of the continental dive and Rocky Mountain National Park are incredible. These views can also be enjoyed from Winter Park Resort.
As Winter Park has a new reservation system, be sure to reserve and book your tickets in advance. This will help keep you safe with Covid protocols and the bonus of having fewer people on the mountain. Reservations can be made at winterparkresort.com/reservations.