I just wrapped up a week of 'Cowgirl Camp' with my 7 year old daughter near Winter Park, Colorado. It was an incredible experience, far beyond the exposure to horses and typical cowgirl activities. The camp provided girls ages 7 through 12 the opportunity to learn leadership, team building, problem solving, and other important life skills through the horse setting. We, as parents know how hard it can be to teach our youth these important life skills when we now live in a world of technology and screens. Cowgirl Camp provided a time to disconnect, bond with other girls, learn from the mentorship of amazing women, and become one in the nature, ranch setting.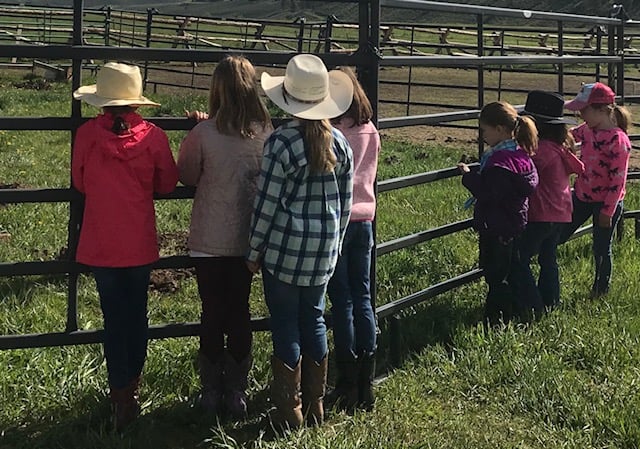 Cowgirl Camp takes place at Hithers Edge Ranch, about a 15 minute drive from downtown Winter Park. It is a one-week camp designed for the 'wild girl' at heart to spread her wings! The daily activities follow a multi-faceted curriculum intertwining the creative arts with horse education and yoga.
Every morning started with group sharing circle and yoga. Yoga came in a form combining music, stretching and sharing in a structured environment that established self-expression and acceptance. The day also ended with yoga.
Each day had an art project designed to teach a variety of creative thinking skills. The talented staff had workshops that taught beaming artists how to construct art both wearable and decorative with minimum resources. A lot of the resources were collected from nature around the camp or reusing items.
The horse instruction built cowgirl confidence by learning basic horse communication skills. The skills taught communication from the ground learning to pet, brush and lead their horse. This is where I saw my daughter grow the most confidence and overcome any fear from her lack of horse experience. She truly thrived in this setting and I believe those confidence and life skills will help her in the future. The camp was very simple with mostly an outdoor classroom environment surrounded with breathtaking views of the continental divide and outskirts of Rocky Mountain National Park.
The Winter Park area is truly a special gem in Colorado with so much more beyond the fun activities at the resort. Cowgirl Camp is just an example of submerging into western heritage outside of Winter Park. Many more family-friendly activities are abundant throughout the town and county.